Once in a while, we'd like to feature a recipe that we've tried out and enjoyed immensely. One doesn't have to live next door to a famous Chef to discover new recipes! The internet is so full of great recipes and when we come across an easy one, we love to pass it along to you!
One of the first recipes Jesse and I discovered in the early days of our marriage is this delicious Quinoa and Black Beans dish from AllRecipes.com:  http://allrecipes.com/Recipe/Quinoa-and-Black-Beans/Detail.aspx
It's a real crowd-pleaser! It's super-easy, just be sure that the quinoa isn't too dry. If the stove is on too high or there's not enough water, it will burn quicker than you'd expect! If it looks like it is headed in that direction just add a bit more water!
But first, today's Cooked Comic:
And here's the recipe:
***
Quinoa & Black Beans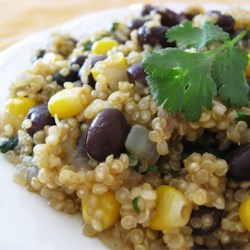 Ingredients:
1 teaspoon vegetable oil1 onion, chopped
3 cloves garlic, peeled and chopped
3/4 cup uncooked quinoa
1 1/2 cups vegetable broth
1 teaspoon ground cumin
1/4 teaspoon cayenne pepper
salt and pepper to taste
1 cup frozen corn kernels
2 (15 ounce) cans black beans, rinsed and drained
Directions:

Heat the oil in a medium saucepan over medium heat. Stir in the onion and garlic, and saute until lightly browned.
Mix quinoa into the saucepan and cover with vegetable broth. Season with cumin, cayenne pepper, salt, and pepper. Bring the mixture to a boil. Cover, reduce heat, and simmer 20 minutes,
Stir frozen corn into the saucepan, and continue to simmer about 5 minutes until heated through. Mix in the black beans and cilantro.
***
Tuesday and Thursday are Tip Days! Come back tomorrow for new tips about Exercise!
Wednesday and Fridays are Recipe Days! Stay 'tooned for a new recipe this Wednesday!
Share and Enjoy